Site Search

Re-start

Introduction

Trip 1 Map

Vancouver

Gulf Islands

Victoria

Trip 2 Map

Broken Dream
Gulf Stream


Bahama Bank

Port Lucaya


Sail to the Bahamas: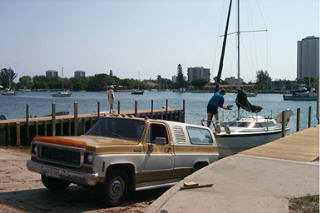 With all these delays, it was getting very close to when Keith would have to leave. He had arranged to leave from the Bahamas, and it was amazing how expensive it would be if he tried to change his plans. We had 6 days, it sounded like the wind was about to change in our favour. We launched Madgic Spell with Jimıs help, he also brought along his digital camera and immortalised the seen. I powered over to the marina, and we had our first experience of docking on a non-floating dock.
We started to move everything over to the boat, and buy our supplies. Jim did a last bit of sight seeing with us, and helped us get the trailer and truck (with half the spark plugs changed and still missing) stored. It looked like there would be a weather window for us. 4 to 6 foot seas, 10 to 15 knot winds from the Southeast. I had hoped to do a shake down cruise to see what kind of range we had, and check out the boat in general. But it looked like there would be not time for a dress rehearsal. So early the next morning, we set out to yells of "watch out for the palm trees."
Palm Beach Skyline
In April there is not much traffic, but what there was, gave us quite a rough ride with their wakes. The skyline slowly faded behind us, and I wondered how to balance our speed and fuel consumption. The seas were a good 4 to 6 feet, and waves continually broke over the length of Madgic Spell. With our 6 feet of freeboard, that was unusual.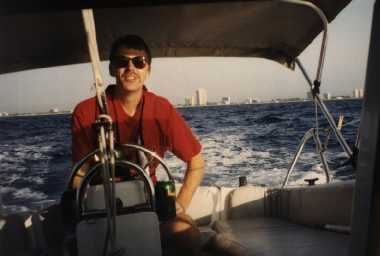 About 20 miles out, it was time to gas up the fuel tanks from our backup supply. I had no idea how hard this would be with the boat bouncing about the way it was. We did a few 360s. Off in the distance a freighter was getting closer and closer, funny how that works, we had been almost completely alone up to that point. I was still worried about our fuel consumption, but if nothing went wrong, it looked like we would make it.
About half way across, we were heading directly for a grey, possibly military ship. We did this for an hour or so, and I wondered if it was some kind of customs check. I was not looking forward to taking down the sails, and preparing to receive boarders. As we got closer, we passed astern, and there were no challenges from our VHF. I was a bit nervous, it was rougher than I expected, we were going slower than I expected, and using more fuel. Keith showed no fear as we pounded through the Gulf Stream, with no land visible or anticipated for a couple of hours. I wondered how brave the thug in the Winn Dixie would be out here.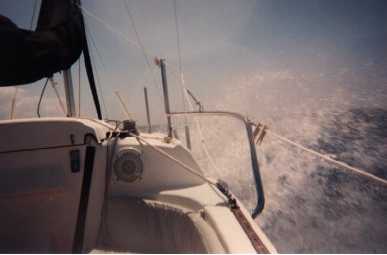 Across the world, Darcy, my replacement crew, was going to the airport, on his way to Toronto to officiate a wrestling tournament. The sea started to calm, and off in the distance I thought I could see something. I rechecked the charts, the same ones I had looked at 100 times before. I guessed it was the water tower at West End. I took out a pair of binoculars I have had since I was 7 years old. These were the first "good," or adult thing I owned. They meant a lot to me, and it was somehow unbelievable that the 7 year old's binoculars were on his yacht, guiding him towards a tropical island.
As we drew closer, it was just as I had imagined it. A green canopy above a sandy beach, amid a blue green sea. We contacted Old Bahama bay on the radio, and were informally instructed to dock by a fellow boater who happened to be in the office. Captain Phil cleared customs for Madgic Spell, and I had a chance to a quick look around. West End is in a state of change. The old Jack Tar village is going, and a new development is coming in. The beach close to our marina was just as I had hoped, warm shallow water, and I could see Madgic Spell anchored out there for a week or so. I did not take into account the "no-see-ums." The small flies ate us alive. We went over to a small hamburger stand, and I think we just about broke even with how much we ate, and how much we were eaten.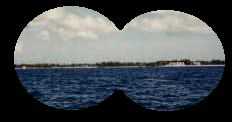 The marina was under construction, there was no power, so they offered half price docking. I thought that when I was on my own, I might come back, and spend a week or so here. We had a quick look around. We walked down the beach to a dilapidated pier that was once used by the Jack Tar hotel. It was in poor shape, as was the hotel behind it. They were trying to tear it down, though with little success. There had been a fire a few years ago, and they had rebuilt the hotel will heavy concrete pillars holding trailer units as rooms. Between the beach and the hotel, there was a huge (I heard one of the world's largest) empty salt water pool. As we walked around the front of the hotel, we saw hints of the former splendour as we saw a wide divide drive way with massive palm trees lining the center boulevard. Our first of innumerable deserted or ruined sights I saw in the Bahamas.
The next day, we met some new neighbours, they had a similar sized boat, so I went over to see how they had done with the trip over. The two young men were from the central states, and had towed their boat to about the same place we had chosen to launch from. They were not as fortunate as us, or as careful. It took them 13 hours to make the crossing, and it was getting dark when they arrived. They had only one chart, and did not know that the entry to West End had been moved. They ran aground, and spent the night on the coral reef. I had carefully planned this trip, and was ready for most contingencies. Much of the planning went unnoticed, but occasionally, I got a glimpse of what could have happened without careful preparation.
It was my plan to stay there a few days, but with the flies, we decided to head towards Freeport, and some of the marinas noted on my charts. We had lost our weather channel on the VHF, and relied on the weather channel on the TV in the marina office. It looked like the weather was holding, so off we went the next morning. It was a couple of hours, and a little rough with a quartering sea as we headed down the coast. We saw beach after beach, and some good looking homes. As we passed Freeport, there was a bit of a storm over the harbour. It seemed very industrial, with the concrete plant, and the large oil filling platforms a mile off the shore. We rounded the point and headed for Xanadu.
At Xanadu, we got our first glimpse of the high prices in the Bahamas. I docked, and went into the Xanadu hotel to register our slip. I returned, told Keith the price, and he wisely said we are out of here. I went back into the hotel and cancelled (it felt good, the receptionist had not been that pleasant). We did not even gas up, thought I can't remember if that was our choice, or if the dock was closed.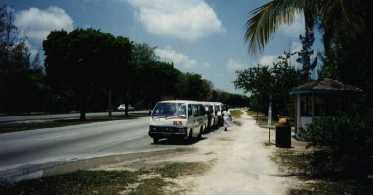 We headed a bit further down the coast to the Running Mon marina. It was about the same price, but the people were a lot nicer. The place was unbelievably run down. It had floating docks, that was about the only plus. The washroom was cold water only, and not much of that. There was no restaurant (other than a breakfast served from 9 to noon). It was obvious that this had been a very nice place, but again, it was close to deserted. There was a not bad hotel, but it was a long way from town, and there was no bus.
That evening, Keith and I headed down town, but after a long walk, we were driven down town by a customs officer that we asked for directions. He had been working on his older car, and was quite proud of it. Keith did some fast shopping in Freeport, and I had my first Conch Salad (spicy), mmm good. In the Bahamas, you can have Conch done anyway you want, fried, baked, you name it.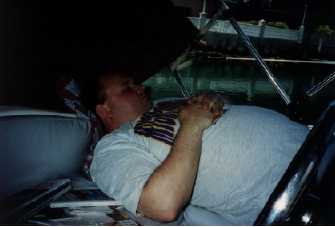 The next day, we knew that Darcy would be arriving. We checked the flight times, and expected he would be delayed catching his plane in Miami, because he had to change to the local Bahama airline. We guessed he would be in, at the earliest, at 7:00 pm. Darcy had no fun in the Miami airport. He described it about the same way Keith and I felt about Riviera Beach, but he made great time, and was waiting for us on board Madgic Spell when we got back from our trip to Freeport.
It was good to have Darcy join us. Both Keith and I were a bit bummed out about recent events, and Darcy buoyed our mood. The three of us only had a day and night together, but we made the best of it. Darcy said it was too hot to sleep in the cabin, so we did not put the dinning table down, and that night he snoozed in the cockpit. A few times I thought about doing that, but every so often we would have little crabs wandering around there, and that weirded me out a bit.
The three of us went up to the airport, and saw Keith off. On the way, Darcy asked the taxi driver about funeral homes (he is a funeral director). So after we saw Keith safely on his way back to Australia, via Calgary, we made plans for a trip to a local funeral home.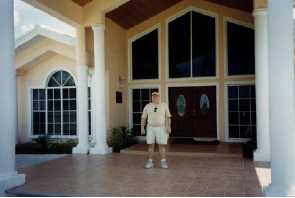 After we got back to Running Mon, we made plans for our trip to the Great Bahama Bank. We took a bus trip over to the next marina, Port Lucaya. We liked what we saw, and decided to head over there. We had to go in that direction anyway to reach the Grand Lucayan Waterway, our gateway to the Bank. On our trip, we dropped into the funeral home that the taxi driver said was the most modern.
We arrived at the funeral home, and after Darcy introduced himself and traded some cards, we were ushered in to the prep room. There the director of the funeral home was embalming. In the back of the room there was a young boy, I would guess about 10. He was wearing a dark suit, and white gloves, he had drowned. As I looked at him, I could not believe that he was dead. He looked so alive, like he was asleep and would wake up any second. I felt guilty that he had such a short life, and I had had so much in mine.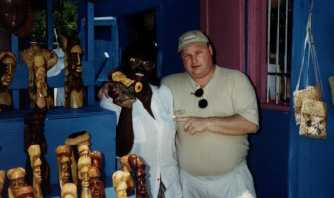 One of the part-time workers at the funeral home, gave us a ride down town. He introduces us to his friends at the market, and Darcy got some good deals on T-shirts. I returned to that stall with all my subsequent crew members, because good deals are hard to find in the Bahamas. After the shopping, we had a conch salad prepared before our eyes at the straw market. It was really fresh, but I enjoyed the restaurant's version more. While at the straw market, Darcy did some horse trading, and picked up a carved wooden "chinman."
The next morning, we headed to Port Lucaya. It was a beautiful sail. We headed a couple of miles out, and had a leisurely calm seas, and just enough wind to do 4 or 5 knots. As we docked and I got my directions on the VHF, I have to admit I liked being called Captain. Port Lucaya was very different from the other Marinas we had seen. It had a classy Yacht Club, internet access, lots of hotels, shops and restaurants, nightly entertainment and dive center. There was also bus access to downtown, and free shopping and airport transportation. The swimming pool and hot tub was just a bonus.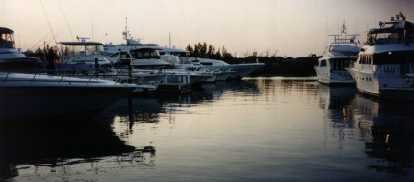 We checked out several restaurants, and one barker told us about a seafood platter for two at the Caribbean Cafe. That evening started a very special friendship with the proprietors, the food was great too. We toured the docks, and checked out our neighbours, most of the boats were fishing boats. Most were around 50 feet, though there were some close to 200 feet. Other than a boat owned by the hired help, we had the smallest yacht there, though few others had come as far.
Next