Site Search

Re-start

Introduction

Trip 1 Map
Vancouver


Gulf Islands

Victoria

San Juan

Trip 2 Map

Broken Dream

Gulf Stream

Bahama Bank

Port Lucaya


Vancouver: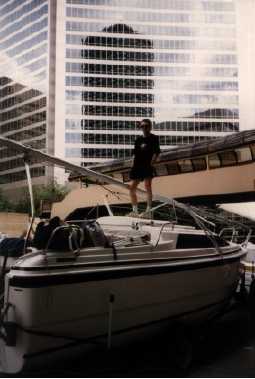 The Adventure begins
The adventure began in downtown Calgary (Picture of Madgic Spell downtown). I picked up Dr. Nora at her downtown apartment (shades of Romancing the Stone). Madgic Spell was already stocked with a month or so of supplies. A lot of canned soups, crackers in individual packets, dry goods in Tupperware etc. Even with all that, and the bags you see, there was lots of room. As we drove off, I wonder how many people looked down from their office tower, and sent their dreams along with the white yacht as it headed west.
Half way to Vancouver, we stopped at Mara lake, in the interior of British Columbia. We found a parking space for the truck, then launched the boat. By the time we got out on the water, it was dark, and time to anchor. There are no charts for the lake, so we were relying on a cartoon drawing of the lake, and a flashlight to help us find where to anchor. I was not sure how close we were to the shore, but I knew we were in 60 feet of water (deeper than I usually anchor in). I set both anchors, because I was not sure how well we would hold in that depth (I only have 200 feet of rode), and it was too dark to risk going any closer to shore.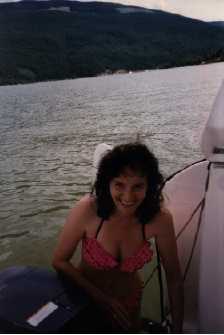 A swim in Mara lake
The wind came up quite strong that night, and I went on deck a couple of times to check, but we were fine. In the morning we were not quite in the middle of the lake, but a lot further from the shore than I thought! The weather was great, we swam (Picture of Nora boarding after a swim) and enjoyed the day. At one point, we used the cell phone to call Nora's brother in Athens, it was really neat to sit in the cockpit with the beautiful water and mountains around us, knowing we were talking with someone half way around the world (where we had spent last summer).
One year before, we had come out to scout the same area. At that time we ate in a restaurant that looked out over the lake. I told Nora that next year we would pull up to the dock, instead of the parking lot. That evening, we weighed anchor, and docked at the restaurant for supper. That was my first experience of docking at a restaurant, and I liked it. A couple of fun and sun filled days later, we again headed west for Vancouver.
We stayed with a high school friend of mine, Ross Beare. Ross and I had been students in Yellowknife, N.W.T. many years before, and I had not seen him for several years. We visited for a while, and when we left he took care of the truck and trailer. I put Madgic Spell in salt water for the first time at Port Moody (Madgic Spell in the center, docked). It was quite an experience. The ramp had at least 5 boats launching at a time, and I had a lot of trouble manoeuvring my boat in such close quarters (I had just got this engine and Mara lake was my only experience with the new motor). Though, I was not the only one having problems, I helped one poor soul who got his boat off the trailer, but then had the engine quit.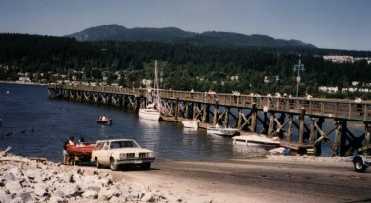 Salt Water
After driving the truck back to Ross's, we set out for the Royal Vancouver Yacht club. As we powered through Vancouver Harbour, we passed large ocean going freighters, and I knew we weren't in Kansas anymore. I was a little uneasy, as we approached the Second Narrows bridge, and it closed. I slowed down, and waited for the train to pass, and for some other boats to pass me, in hopes they would know the secret sign to get the bridge to open again.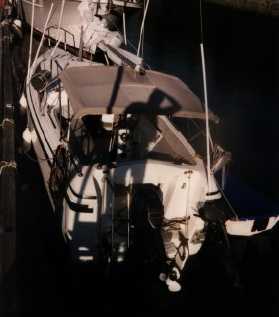 The Royal Vancouver Yacht club
I am told that memberships at the Royal Vancouver Yacht club is about $40 000.00, luckily another friend, Bob Woods is the harbour master, and he gave me a berth, waving the $40 000.00 fee. In the picture, you can see some of the toys on Madgic Spell. The Bimini, BBQ, Crab Pot, spare anchor, compass, 50 and 3.5 hp Nissans. You can also see the old tender, I have now have an inflatable, I found the hard dingy heavy to tow.
Whiterock
While in Vancouver, I had a chance to meet with another friend of mine, Suman Lata. I had met Suman several years ago (in 1992) on a trip back from Australia. She is from Fiji. I went to visit her in Whiterock (note the white rock off my right shoulder). The next day, she brought her mother (who happened to be visiting from Fiji) out to see the boat at the Yacht club. That visit did not go down well with Nora, and I almost had a munity on my hands. For a while, it looked like I might be sailing to Silva bay alone.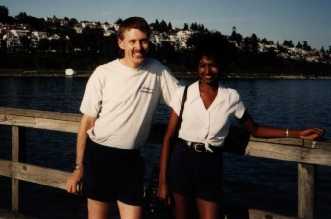 After a couple of days at the Royal Van, it was time to cross the Straights of Georgia to Silva bay. I was a little nervous about this (it is about 25 miles across, and the most open water I had taken Madgic Spell ). I spent a couple of days listening to the weather and talking to people about their crossings. After a few days, we set off, we went under the Lionsgate bridge, passed some large anchored ships and headed across the Straights. We had quite a rough patch as we crossed the outflow of the Fraser river, Nora felt a bit sick (and against my advice) went below to lie down. After that it was smooth sailing (or should I say powering, as there was no wind), though I did find the navigation a bit hard, I dont know what people did before GPS. Actually I do know, it just seemed a lot harder in practice than at my CPS course.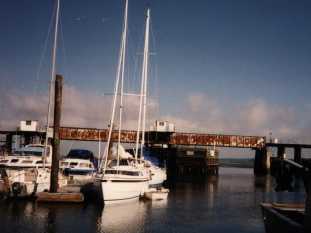 After the adventure in the Gulf Islands, around Victoria and the San Juans, I returned to Vancouver to take the boat out, and head home. I reentered Canada at Crescent Beach, and stayed at the marina there for a few days. I got a bit lost, on the way back, the water was like glass, and I got a bit over confident. Crescent beach has a narrow dredged channel to enter it, I powered straight over the underaged area, (luck my draft is less than a foot).
Staying at Crescent beach, gave me a chance to do some day sailing with Ross (who had stored my truck and trailer), and Eli Mouland (a fellow teacher from John Ware Jr. High). One of the neat things about the marina is that it is behind a swing bridge. On my second trip with Ross, I was again not paying attention to the dredged channel (you would think I would learn) and ahead of us, I saw a bird on the water, normally not a big deal, but this one was standing (at that second we stopped forward motion), I was wondering why the people on the swing bridge were watching us so closely. I raised the rudders and trim of the motor, and we backed off the sand bar.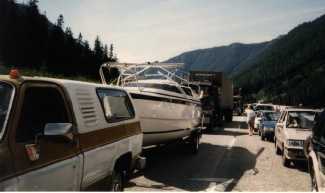 I had another chance to visit with Suman, and I was off to Calgary. There are a lot of steep climes, and my '73 Chevy had a tough time on the way back. One of the rocker arms loosened off, and rattled all the way back (though at the time, I did not know that something that simple was causing the noise). Just as I left Vancouver, I was stopped in a traffic jam, with the Chevy tapping away, over heating (and it won't restart when it's over heated). I could not decide what to do, pull off, and let it cool down, or wait and hope it did not over heat too badly. Well luckily, we started moving before I had to decide. About a mile on, I saw the reason for the delay, a truck and trailer burned to ground (obviously a more serious problem with over heating than mine). Thirteen hours later Madgic Spell and I were home, safe and sound, dreams intact. The trial run was complete. The next trip, to the Caribbean, is set for March '99.