Site Search

Re-start

Introduction

Trip 1 Map

Vancouver

Gulf Islands

Victoria

Trip 2 Map

Broken Dream

Gulf Stream
Bahama Bank


Port Lucaya


Little Bahama Bank:

After a few days of the same, checking out some more restaurants and the beach at the new hotel across the street (don't tell anyone), we headed to the Grand Lucayan Waterway. The largest engineering project in the Bahamas, the 1967 dream of developing the interior of Grand Bahamas failed, but the rout to the Abacos may be worth the $26 million, well, it was to Madgic Spell. The Canal is about 8 miles long, and has a bridge with a 27 foot clearance about half way. Madgic Spell's mast is about 30 feet high. The Canal's main channel is 250 feet wide, and there was lots of draft for Madgic Spell, at about 4 feet.
The trip through was uneventful other than the lowering and raising of the mast. We forgot to take the bimini down, and bent its front leg a bit. It is an eerie place to sail through. There is a huge deserted hotel, a complete road system without a single home on it, another half finished project littering the Bahamas.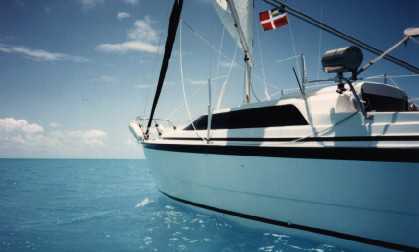 When we reached the other side, we poked our nose out to see if there was any good places to anchor. The sight suggested by the chart, seemed a bit exposed, so we headed back into the Canal and up one of the many fingers off the mail channel. There was commercial vessel there loading some equipment, so we hailed the vessel on the radio, and asked if we would interfere with his operation, if we anchored there. He replied that he was leaving, and the finger was all ours. I really felt like Captain Phil then.
We anchored, and ran a stern line ashore. It sounds easy, but the sides of the Canal are rough, and I did not want to damage Madgic Spell. Once I got ashore, the vegetation was prickly, and it was hard to find anything strong enough to secure the line. I ran the line back aboard, so we could do an easy cast off next day. Then I had the pleasure of trying to get back aboard again, a leap of faith did it. After getting anchored, we went for a swim. Darcy was not quite sure about swimming in the Canal, but after he saw what a good time I was having, he dived in for his first of many dips in the Bahamas beautiful crystal clear water.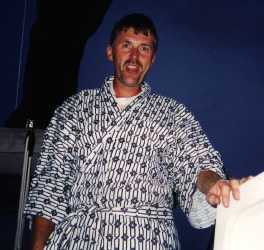 A birthday to remember
The next day was my birthday, and we had a 40 mile sail to Great Sale Cay. We had to sail north out into the Little Bahama Bank to Mangrove Cay before heading East to Great Sale. After a couple of hours of relaxed sailing, there was a line of small storms going by, and I was trying to sail between them. One of the storms was starting to close a bit faster than I had expected, so I told Darcy to go forward and drop the main. He whined a bit about touching the mast with all the lightning, but we got the sail down and headed off under power. After a bit of hard driving rain and some more lightning, as the storm chase us in a horseshoe shape, we out ran the storm. I was glad to have the extra power and speed of the 26x.
I have to admit that as I gripped the stainless steel wheel, and the lightning flashed around, I was wondering if this would be my last birthday. To catch our breath, we anchored on the lee side of Mangrove Cay, and went for a swim, and watched the storms go by. Once the storms had gone, the wind dropped, and we motor sailed most of the rest of the way to Sale Cay. When we got to the Cay, we entered to bay, and saw about 20 sail boats, and a couple of power boats. A very different ratio from what we had seen at the marinas. That evening I opened the gift that Keith left, and wore the Japanese robe that he had purchased on his way to Canada for Australia. That will be a tough birthday to top.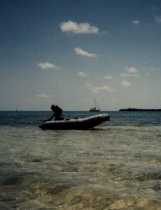 Darcy and I had a wonderful time on the Bank, we sailed, inflated the dingy, swam, Snorkled, hiked, explored jungle, beaches, mangrove swamps, and more deserted buildings. It is an unbelievable area. It is an area of about 100 by 50 miles, and only 6 feet deep, perfect for a shallow depth vessel like Madgic Spell. I think this was the best time of the trip for me. I think my best memory is when we sailed back to West End. I stood at the bow, and watch the landscape of the bottom flow by, as Madgic Spell cut through the water above. One of the best things to do, was to cast a line off the stern, and with a mask and snorkel on, watch the bottom change as you are towed along as Madgic Spell sailed leisurely forward.
On our last night before getting back to West End, we stayed a night at Mangrove Cay. We were going to do an exploration of the recked plane, but I miss judged how far we were from the beach. With the strong current, about half way there I told Darcy that I thought we should head back as I was getting tired. We had our SCUBA diving fins on for the first time, and I was not used to swimming with them.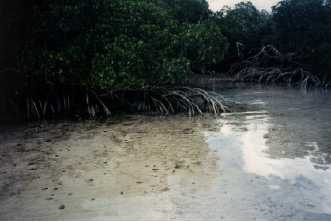 Again I was back at West End. It was Keith that had had the worst time with the no-see-ums, so I thought I would have a chance to do a bit more exploring. I was wrong, where Keith came out in Millions of small spots, Darcy, got large open soars, it really put a crimp in his tan. We did stay there a few days, and I had a chance to do a little exploring. We went into the town a couple of times. On the way we passed mountains of Conch shells looking like concrete jetties stretching 50 feet out into the water.
One evening we were being driven home after dark. There were lots of people walking around, some of the groups of youths made me wonder how safe it would be for us to walk around. I think this was an echo back to my experience at Riviera Beach, but I am not sure. We had been told by the customs agent that gave me the ride in Freeport, that he would be careful in the evenings where he walked, and said that was doubly true for tourists. In many countries I have taken part in promenades up and down the waterfront in the evening. I have enjoyed promenading from Borneo to Greece it is the thing a miss most when I am in Calgary.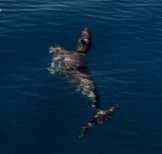 Dolphins, right on cue
As we left West End, Darcy's dream of seeing dolphins came true. I was powering us around the point, when I saw a couple of fins, we headed over in that direction, and Darcy grabbed the camera. There was a young dolphin swimming with his or her mother, and a couple of single dolphins that played in our bow wave. It was a nice way to leave the Little Bahama Bank.
As we sailed back along the south coast of Grand Bahama, we were registering about 100 feet on the depth gauge. Darcy told me that he could see the bottom, I was skeptical, but when it was his turn at the helm sure enough the water is that clear. It was time to do a bit of maintenance on Madgic Spell's bottom. She had been in the salt water for a month, and Darcy and I anchored her by the beach and gave her a bit of a scrub. It is amazing how fast that crystal clear water can deposit a forest of sea creatures.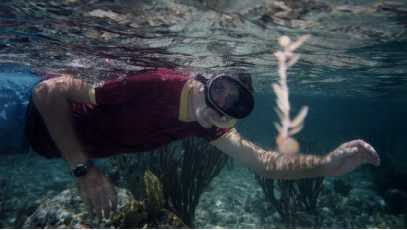 Time to clean Madgic Spell's bottom
The charts for the Bahamas have no detail close to the shore, and Darcy and I spent quite a bit of time close to shore. We raced other boats anchored at beaches and restaurants. I got good at judging the depth, though Darcy may dispute that as I often sent him over board where I guessed there was a couple of feet of water, only to see him disappear below the boat. My dream was to have Madgic Spell anchored off a beach, and be able to relax on board, and when you felt like a change, just drop into the sea, and swim to beach for supper or a drink. I indulged my dreams quite a bid during this time.
Sometimes we would take the inflatable, and explore the canals that honeycomb the island. We explore, and find all kind of interesting things; wrecked ships litter the edges of the canals, along with the nice houses, and a compound with enough security to keep out an army, and enough fast speed boats race each other, or the DEA. Attack dogs are kept by many of the homes. When we drive up the canals, they bark of their docks, and when we walk down the street, they snarl from the front yard. There are obviously different needs for security than I am used to in Calgary.
So many Wrecks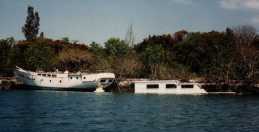 Darcy and I return to Port Lucaya, and take advantage of the ever changing hot tub. The temperature varies from day to day. Sometimes a tepid tub, sometimes perfect for cooking lobster. There are always a changing clientele in the tub, because the hotel at Port Lucaya, is used as a stop over for the "Discovery" cruise, part of a timeshare pitch. The home towns vary, but there is a common theme of people hoping to get something for nothing, and complaining about how much that costs.
We find some nice diving and snorkelling spots within a few miles of the marina. We spend the days on the water, then a hot tub, and finish off the evenings in the square, listening to Little Joe Cartwright and his band, or enjoying the piano bar in the Yacht Club. The show at the square is somehow more fun, when you have seen it a few times. There are two limbo dancers that are unbelievable. They place a stick on a couple of beer bottles, light the stick on fire, then limbo under it.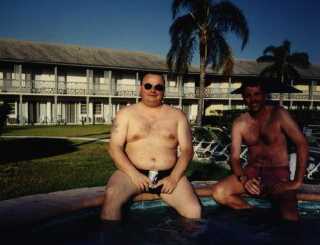 Memorial day approaches, and we are kicked out of our lackadaisical life style, or more specifically, we are kicked out of the Port Lucaya marina. To make room for boats that booked much earlier. We head back to Running Mon, and a warm welcome from Cheryl, and his wife, too bad I have been calling him George for the whole last few visits. They are expecting a lot of boats, and we somehow end up hoping with them, that they fill the marine. It is sad to see it so empty, and they are obviously trying to breath some life back into the place. They set up a sound system by the pool bar, and after a while of watching them try to coax some tunes out of it, I help by moving a few important cables around, and we are rocking by the pool. We do get a few boats in, but the weather is not great, and there are quite a few no shows. I bet we could have stayed at Lucaya, but I am sure we had a better time where we are.
One of our neighbours is over in an older power boat, that has broken a seal, and is taking water into the oil. The boat does have two engines, and so they did make it to the Bananas, but don't want to try to make it back. They spend quite a bit of time working on it, and no time fishing, as they had planned. We torment them by returning in our inflatable with fish stakes, courtesy of the owners of Tony's restaurant, who we meet as they are cleaning their catch by the entrance to Running Mon. We tell them that they just jumped into the boat.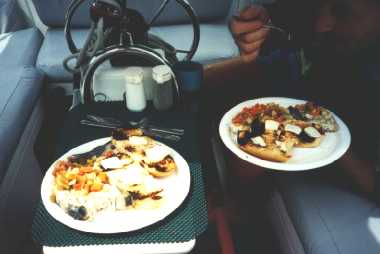 That night we have a fine supper of Barbecued Fish Stakes done on Madgic Spell's underused SeaBQ. As we sit around and party on the dock, an other owners, not fishing because of the bad weather, buys a few too many crab legs from a commercial fisher, and shares them with the group. We provide the music through Madgic Spell's Blaupunkt stereo, and partied late into the night.
The weather gets worse. All the wives, are flying home, and the men are left to sail the boats back home with their fishing buddies. We are not too worried, every time we go out to see the bad the weather is for the fishing boats, all we find is great sailing weather. Just as we are getting complacent. We hear a Mayday on the radio, and Sea Tow is called out. One of our neighbours, who was heading back to Florida, returns an hour later with a new Seadoo, and some damp new crew members. They have rescued a Doctor, and his 3 sons. I hear the Doctor on his cell phone trying to tell his wife what he has saved, and explaining as best he can, what he has not.
We listen on the radio, and hear that the seas are very rough, but that everyone seems to be doing OK. We head out, and set our course back to Port Lucaya. As we exit Running Mon, we see short 8 to 10 foot swells, and numerous whitecaps. Madgic Spell preforms flawlessly, it is an exciting trip. Even as we turn our beam to the sea, and I expect to be drenched (but hopefully not rolled), Madgic Spell tracks beautifully up and down the swells. It's large freeboard keeping us safe and completely dry.
Next