Site Search

Re-start

Introduction

Trip 1 Map

Vancouver

Gulf Islands
Victoria


San Juan

Trip 2 Map

Broken Dream

Gulf Stream

Bahama Bank

Port Lucaya


Victoria: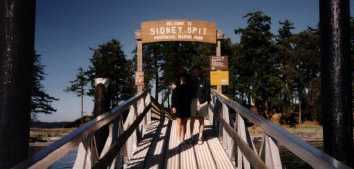 Sidney Spit
After a few of nights at Maple bay, it was time to leave. Nora's former boss (Brian) lived near Victoria, so we headed to Sidney. I had been there many times before and liked the marine park at the Spit. We anchored there. Nora took the ferry, and spent the day with Brian and his family, and I enjoyed a day exploring the park. We were invited to stay with them, and powered around to Deep cove.
On the way, we saw a fellow 26x zipping along. Deep cove has a very small marina, we left the boat there, and spent a few days ashore. We were lucky to be in Victoria during an excellent open air classical concert; Symphony Splash VIII.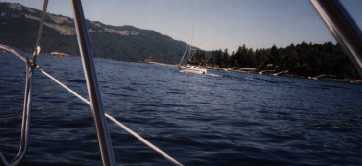 Crew change
It was time for a change of crew. Nora had to go back Calgary. We sailed back around to Sidney, and this time docked in the marina. It is one of the nicest marinas I have seen anywhere. Nora and I took a taxi to the airport, I was about to wave goodbye, when I was paged, my replacement, had missed his plane, and would be late. Instead of flying here, he would fly to Vancouver, take a ferry, then bus to Sidney (the long route).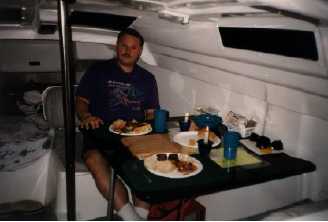 Supper below deck
I extended my stay at the marina, and waited. When he arrived, I had supper waiting. I always made a point of eating well, nice food, candle light and music. You can see there is lots of room in the cabin. Next morning, with my new crew aboard, we headed to the U.S.A. and my first attempt at clearing customs and immigration, in the San Juans.
Next