Site Search

Re-start

Introduction

Trip 1 Map

Vancouver
Gulf Islands


Victoria

San Juan

Trip 2 Map

Broken Dream

Gulf Stream

Bahama Bank

Port Lucaya


The Gulf Islands: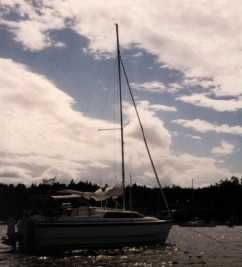 Silva bay
The first stop in the Gulf Islands was Silva bay. Silva bay is a natural stopover, waiting for the right tide to go through Gabriola pass. As I approached I had trouble identifying the bay, and it was only after I saw a couple of boats going in, I was sure I was in the right place.
I have taken several courses in navigation, had good charts and a cruising guide, but it was the GPS that I ended up relying on the most. I kept thinking back to the early explorers. With no charts and only sail and oar power, it was hard for me to imagine them exploring this area. Even after reading the importance of a wide turn into the bay, to avoid Shipyard Rock, I still had to do a quick course correction when I say how shallow it was getting.
We found a nice spot to anchor, and stayed there for a few days. We learned about paying for garbage drop off, and how much fun it is to dump a porta-poti. Nora did some swimming (and just about froze), we also took advantages of the restaurants and pubs ashore, and explored the area with our dingy. It is a beautiful area, and we had perfect weather.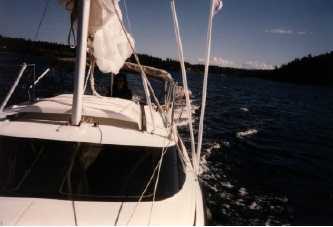 Gabriola pass
After a few days, we checked our tide table, and headed through Gabriola pass. The current flows up to 10 Knots, but we when through on the slack, and had no problems. There was no wind (again), so we powered over to Ladysmith. Ladysmith is a much larger town than Silva bay, we explored, and restocked a few provisions. The water is quite warm there, and we both went swimming. The island we anchored by was for sale, and when I got back to Calgary, I checked out the price. It was around a million, but with water, power, and cable TV that seemed like a fair price.
Tender Taxi service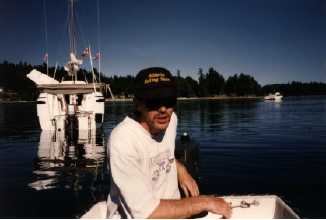 We anchored a mile or so away from the town, on the other side of the harbour, behind Dunsmuit Island. Here we are leaving on the tender, heading for shore. The tender was invaluable. We did some long runs around Ladysmith Harbour picking up gas and supplies. The Nissan 3.5 has a built in tank that gives a good hour of travel. Once, we ran out of gas right in the middle of the harbour. Nora was not amused. It was a little rough in the middle, but I refilled the tank from our 2 gallon backup tank, and we were off again.
While ashore, we dined at the Athenian. Nora ordered some Greek dishes as per her heritage. I thought it might be nice to have some salmon, since fresh sea food in hard to get in Calgary. The salmon was fine, but Nora's choice was a lot better, when in Rome...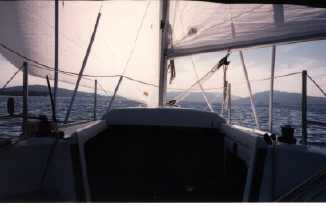 Now it was time to head south again, this time to Maple bay. We got some good wind, and sailed Wing on Wing for much of the trip. It is so much more relaxing to sail rather than power (in my opinion). Maple bay had a great bar, with a battle of the bands going on then night we were there. We pulled up to the dock at the bar, and by the time we were ready to go home it was dark, and I had my first experience of navigating the dingy in the dark. The marina there is very nice (though we did not use it, we were at anchor). We did some laundry, and explored the inner bay, there are many nice homes around there. There was also one home on the water for sale. Lodo, the owner of the Decoy, a 20 by 61 ft. floating home, invited us aboard for a look. He had built several ships, and lived aboard them with his wife. The tea and the tour were great.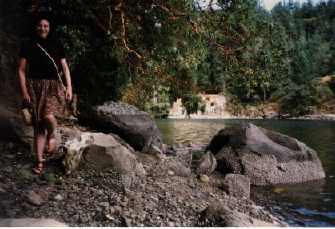 The Maple bay marina is very nice (though we did not use it, we were at anchor). We did some laundry there, and explored the inner bay, we saw some very nice homes, both on and around that area. Stan Homer (a friend from Calgary) has his boat at Maple bay. We tried to find it, but I could not remember the name. We bought our tender from Stan, for whom it had done sterling service, going as far south as New Zealand. Although we now have an inflatable, I still enjoy sailing it on our reservoir in Calgary.
Next