San Juans: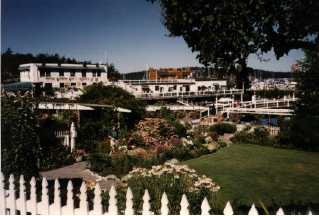 Roche harbour
Our port of entry was Roche harbour. I anchored in the bay, and rowed to the customs shack. I was worried that the salmon dispute between the U.S. and Canada might colour my entry. Other than telling me to bring the boat, not just the dingy, to the dock, it all went very smoothly.
Roche harbour has a rich history, you can stay in the original hotel where Teddy Roosevelt stayed as a guest of the owner, John S. McMillin. I am told you could have seen Teddy's signature in the guest book, except the page was stolen in 1977. As you can see from the picture, there are beautiful grounds. Their marina is very nice too. Again, we did not dock, we anchored and used our Tender Taxi service.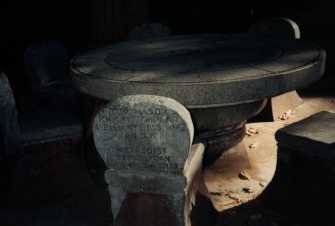 Afterglow
Another thing you can do at Roche harbour is to visit the mausoleum. It has all kinds of Masonic symbolism. Darcy is a funeral director, and we have visited this site before, on a school field trip aboard the Edgewater Fortune. Darcy took many pictures of the mausoleum; "Afterglow." As you can see there are many fluted columns and chair-shaped crypts around a limestone table. One of the columns is unfinished, and hangs symbolising the unfinished things of life.
We took the shuttle bus to Friday harbour, a bit more touristy, but still well worth visiting. Darcy and I had also been there on our Edgewater Fortune trips. There is also a nice marina there, but we were getting a bit short of time, my crew only had a week or so left, so we did not take advantages of it.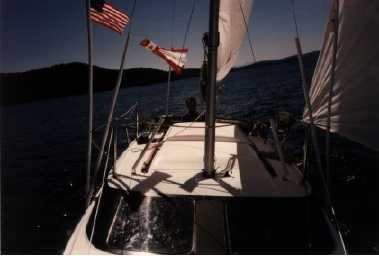 Good wind for a change
Darcy had to get back to work, so it was time to start heading back towards Vancouver. On the way back we planned a stop at Sucia, a yachters only island. Several boating groups bought the islands and gave it to the U.S. Parks Service to maintain. The only way to get there is by small boat. We got some good wind and tacked our way (almost) up to Sucia Island. It was some of the best wind I had on the trip, we were healed over so much it was almost hard to make soup and sandwiches for lunch.
Fossil Bay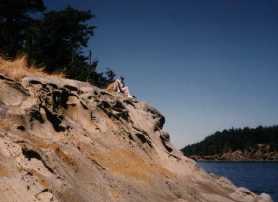 On Sucia we spent the first night in Fossil bay. There is a small dock there, and we went ashore to explore. There is no development, but there are wide paths that cover the whole island. The experience was the exact opposite from the one at Roche and Friday harbour, but just as enjoyable. The supplies of food and water had held up well for the two months I had been aboard, only the porta-poti needed constant attention. Even with only 15 gallons of water, weeks away from a marina would be no problem. We'll see how that theory works in the Bahamas on the '99 trip. Since this trip I have installed a second water system for salt water.
The next day we sailed around the island to Ewing bay, on the other side of the island, by Lawson bluff, it is quite a bit smaller than Fossil bay, and had two rather nice beaches. We took full advantages of them. That night, like most, we lay looking up at the stars on the 6 foot plus cushions in Madgic Spell's cockpit.
Evening at Ewing bay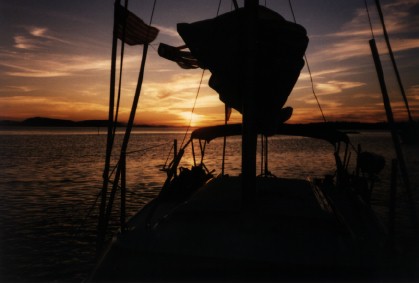 That evening a yacht arrived quite late, after dark. The bay has two unlighted markers, green and red. The yacht headed right for the red marker, unfortunately slightly on the wrong side. They had a spot light, and we thought they would see what they were doing as they got closer. When it looked like they were not changing course, Darcy went below, and got our light and shone it on the marker. They made a very quick course change (which could have been after touching a rock) and anchored safely. My two experiences with night anchors this trip seem consistent, something to be avoided if possible.
The last leg of the trip was across the Straits of Georgia again. This time there was no wind, the water was like glass, and we powered our way back home. We did see some interesting traffic, big ships and barges, but other that missing Blaine and ending up in Crescent beach the trip was smooth sailing.